Performance & Security Solution
Certified Partner
Included FREE with ALL our web hosting packages!
All of your traffic will flow through Cloudflare's global network of 100+ data centers,
enabling your website to run faster and use less bandwidth.
Web Hosting with Cloudflare
Performance & Security Solution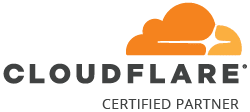 Cloudflare FREE
Cloudflare accelerates and protects any website online. On average, a website on Cloudflare:
Loads 2x faster
Uses 60% less bandwidth
Has 65% fewer requests
And is way more secure
Faster site performance
Broader security protection
Powerful stats about your visitors
Peace of mind about running your website so you can get back to what you love
CDN
Distribute your content around the world so it's closer to your visitors (speeding up your site). Cloudflare operates one of the fastest Anycast DNS services.
Optimization
Web pages with ad servers and third party widgets load snappy on both mobile and computers.
Seguridad
Protect your website from online threats with our enterprise-grade Website Application Firewall (WAF).
Protección DDoS
Ensure your website is protected against DDoS attacks using our advanced service.
DNS
Cloudflare operates one of the fastest Anycast DNS services.  Here you can create the content that will be used within the module.
¡ Comuníquese con el anfitrión rival hoy!