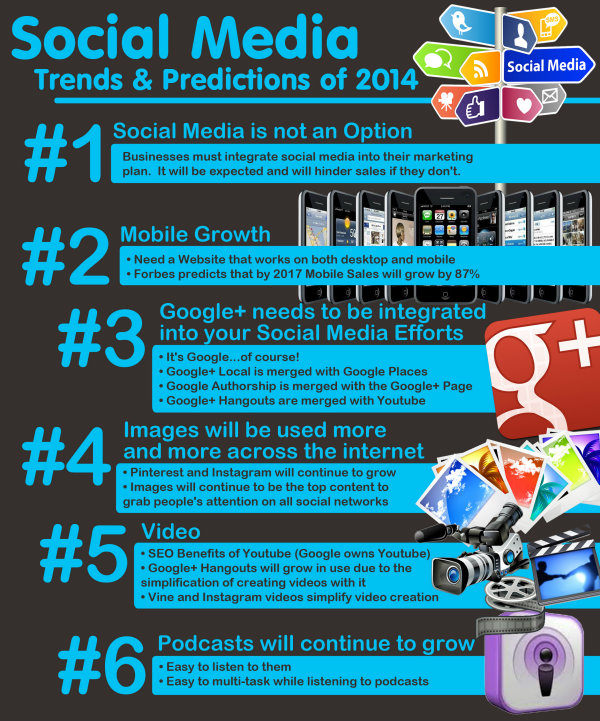 These Are The Social Media Trends To Jump On In 2014
The web has become more social, each and every year. Social media has become so much a part of our lives that social media has become just as relevant as a tool for communication as the telephone, perhaps even more so. There is no arguing that companies need social presence — it builds trust with customers, doubles as a support channel, and makes communication quick and easy. With the new year almost upon us, it's time to start thinking about your social media strategy for 2014.
Here is what's to expect in the New Year:
Audience behavior will define your social strategy
Big data is the driving force behind a lot of the marketing changes on the horizon. More and more social networks are opening up data to make it easier for social media managers to grasp how their audience is responding to posts. Facebook and Pinterest already make this data available, while other platforms, like Twitter, are slowly rolling out these features. In Twitter's case, conversion tracking is available for paid advertising only, but it only stands to reason that more social companies will follow the trend and build analytics tools for their users.
Further reading:
Paid-advertising on social media will become a factor in 2014
As social media giants seek to appease shareholders and increase revenue, paid promotion on social media will become more of a necessity, rather than just an added boost. Facebook admitted as much already, revealing that posts are showing up less frequently in people's timelines. Google+ also recently announced promoted posts. It's too early to tell, but it would not be surprising to see Google follow the path of Facebook (that is why there is a Google+ in the first place).
To keep up the visibility, marketers will need to learn how to leverage paid promotion, and gauge the effectiveness of each social channel they use. The move to paid social reach will potentially lead marketers to exploring other alternatives.
Further reading:
Google+ will become more and more relevant
If you haven't set up Google Authorship by now you are doing yourself an injustice. Having your picture appear in search increases the click-through rate to your website and helps to add the human touch to search results — but that's only part of the benefit. Another aspect of Google+ that makes it so valuable for businesses is that when people have you in their "circles" your posts can potentially show up in their search results. That's right! When you post something on Google+ that matches a search query done by someone who has you in their circles you will show up on the first page.
Think of the potential: how many people stay logged into their Gmail when they're online? If you are posting updates relevant to your audience there is a good chance that you will be showing up in their search results. Even if they decide not to click, this is an extraordinary opportunity for exposure and brand recognition.
Still, yet another benefit of Google+ is the communities. Think of them like a forum, filled with people that are gathered around a specific topic. Just a quick search through the many communities will yield you with thousands of potential prospects. And, networking in Google+ communities is great for driving traffic back to your site and increasing your social SEO.
Further reading:
And a few more…