Earn Money With
The RivalHost
Affiliate Program
Sign up for RivalHost's Affiliate referral program and begin earning money right away!
Earn Up To $100 Per Qualifying Signup!
A dedicated team of Affiliate specialists are available to assist you with our affiliate program. There is absolutely no cost to you to be a RivalHost Affiliate, and the earning potential is substantial!

Signups per month:
1-5 ……………..$25 /signup
6-10 …………..$50 /signup
11-20 ………….$75 /signup
21+ …………….$100 /signup

Let's do the math…
If you send us 21 signups in any month, you will get
$100 x 21 =
$2,100
How Does The Affiliate Marketing Program Actually Work?
Utilizing our tools to create custom coupon codes and tracking links, you acquire new signups for RivalHost services and then receive a commission of up to $100 per qualifying signup! As you can see, our domain hosting affiliate program is an easy way of making some extra cash.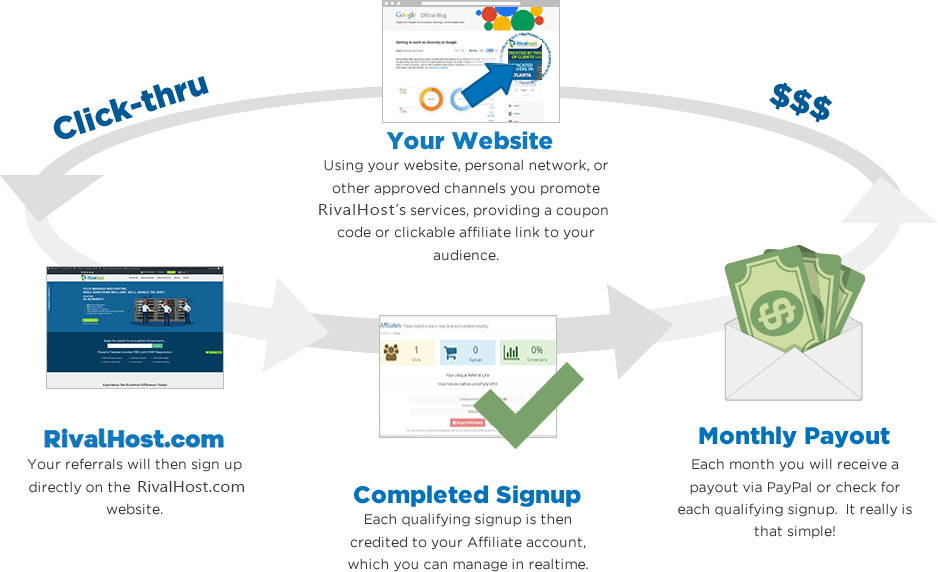 Dozens Of Banners To Help You Get Started!
Using your normal online Affiliate program credentials, log in to Impact Radius at the link below. You will then have access to a variety of banners which you may freely use. Remember: the more clients you refer in our hosting referral program, the bigger the rewards! To get started with our affiliate program, reach out to one of our specialists today.
Earn up to $100 per Referral!
Receive $10 Just for Signing Up
50/50 Split on Dedicated Servers
Earn Bitcoin, Cash, or Free Hosting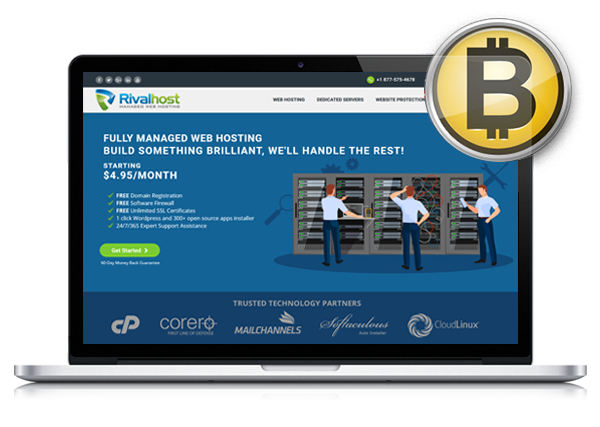 How It Works
We've streamlined our entire affiliate process to ensure ease of use, while still maintaining extremely accurate tracking methods.
Visitor clicks on an affiliate link on your site or in an email.
The visitors IP is logged and a cookie is placed in their browser for tracking purposes.
The visitor browses our site, and may decide to order.
If the visitor orders, the order will be registered as a sale for you.
If the customer is still with us after 60 days, we will approve the sale.
Rules and Requirements
We do have some basic ground rules for the program, so please read before signing up:
All participants must have a Bitcoin address or PayPal account to receive payouts.
All participants in the US who earn $600 within a calendar year must complete IRS form 1099. International affiliates are not required to complete this step.
You may NOT receive credit for referring yourself to RivalHost.com.
Participants caught violating or attempting to circumvent these rules will have all affiliate credit voided and will not receive payouts. Additionally, they will be banned from further participation in our affiliate program and may have their BWH service terminated.
COMMISSION STRUCTURE
Getting started is easy. All you need to do is sign up to be an affiliate. You'll be ready to start earning money in as little as 5 minutes. Afterwards, just place our banners on your site. You can also use your unique affiliate link to share with friends. When they sign up and purchase a hosting plan, you get paid.
We offer a two-tier affiliate program. For shared and VPS referrals, you earn $25 – $100 per sale. Dedicated servers and DDoS protection referrals earn you 50% of the 1st month's invoice!
Every dedicated server and DDoS protection client you refer, you earn 50% of the 1st month's invoice!
| Monthly Sales | Commission |
| --- | --- |
| 1 or more | $25 per sale |
| 6 or more | $50 per sale |
| 16 or more | $75 per sale |
| 20 or more | $100 per sale |