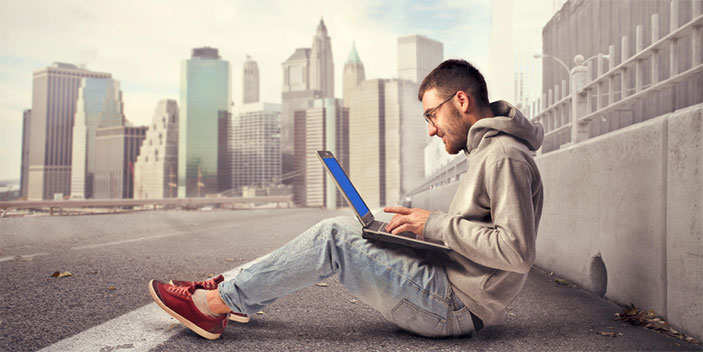 5 (Easy) Ways You Can Spruce Up Your Website For 2014

Just because you don't have the time or money to roll out a brand new design for your website, doesn't mean you have to pass on updating your website for 2014. Here's 5 simple tweaks that will help give you more oomph in the online department before the year is up.
It's pretty common to see new website designs roll out when bringing in the new year, but if your pocketbook (or coding skills) isn't up to the task, there are still a few ways you can make your trusty website shine — and all it takes is a few simple tweaks.
Get Creative with Call-To-Actions
First up on the list, and for good reason. If you are doing business online — or even running a blog — chances are you have a goal in mind for your website. Whether you are looking for customers, sign-ups, email subscribers, or downloads, you have to make it obvious for your visitors.
A good call-to-action can reap major benefits for your online marketing endeavors. You should work some magic into your site by adding unique CTAs in all the spots that your site visitors will find them.
This list will make it simple:
above the fold and to the right;
your sidebar;
after your posts;
your footer.
Go Social
Search marketing and social media go together. If you want to increase the engagement on your site and get more shares on social media, you need to make it as easy as possible for your visitors.
If you use WordPress, there is no shortage of social plugins that will help get you up and running. If you have a custom site, or are using another framework, you'll have to take the scenic route. It may require a little bit of work, but the work will be well worth it.
Here are some links to get you started:
At the very least you need to add the Google+ button to your site. This will allow your visitors to "+1" your domain. There has been a lot of talk on the importance of social signals when it comes to search, and the verdict is in: social signals do help.
Freshen Up Your Content
We all have to feed the content beast in order to gain valuable search traffic and rise in the rankings. The only way to do that is produce content that is worth sharing. And remember: a blog post doesn't have to be the only thing in your arsenal. It's important to vary the types of content you are producing.
Here are some ideas:
Case studies
Guest posts
White paper
Videos
Press releases
Webinars
Sprinkle In Testimonials
Testimonials help add credibility and trust to your business. Reach out to your most loyal customers and ask them for a review. Once you have acquired a few testimonials (maybe even video testimonials!) you can feature these on your site. Want to see conversions go up? Then get to it.
Ditch The Corporate Speak
"Simplicity is the ultimate sophistication". Leonardo da Vinci spoke those words and they are more true now than when they were first uttered. You won't impress customers with technical jargon and corporate speak.
Use regular language on your website. Keep it simple, engaging, and informative — without going overboard.
Your website visitors will thank you.